Hi everyone - I have some very exciting news for you
very lucky
UK readers! We are doing a giveaway of free tickets to
The Knitting and Stitching Show
Oct. 8 - 12 in London!
Just looking over the schedule - there is so much to see and do there, and literally
hundreds
of hands-on workshops where you can learn new crafting skills!
We were given a pass so that our very own Jo, can attend as well - maybe you'll run into her when you're there! By the way, all of these wonderful photos were provided by The Knitting and Stitching Show.
More details on the show:
The Knitting and Stitching Show takes place at Alexandra Palace.
Wednesday 8 Oct – 10am – 5.30pm
Thursday 9 Oct – 10am – 7pm
Friday 10 and Saturday 11 Oct - 10am – 5.30pm
Sunday 12 Oct – 10am – 5pm
Tickets prices – Adult: £16 on the door (£13.00 in advance); Children £7 on the door (£6 in advance)
Visit
www.theknittingandstitchingshow.com/london
for more details.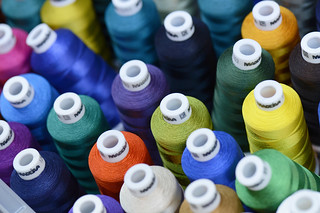 And now for the good stuff - the Knitting and Stitching show is giving away of 5 free pairs of tickets for
all day Wednesday
,
Thursday 3-7pm
and
all day Sunday
!
To enter this giveaway - email mail@twistedthread, put K&S Ticket Giveaway on Feeling Stitchy in the subject line and include your full name, email address and full postal address. The giveaway will be open through Monday, 9/29/14.
Thank you to the wonderful people at
The Knitting and Stitching Show
for making this giveaway possible!
Whether you are in the neighborhood of London or not, just for kicks - what do you think you'd attend at The Knitting and Stitching Show? I'd hit a basic sewing class and camp out in the tea rooms!